Bang & Olufsen of Leeds
 Winter offers in store
BeoVision Avant 55" - 20% off 
 IN STORE STOCK
BeoLab 5 – was £15,000 – NOW £9995
BeoLab 12-3 – was £3790 – NOW £2650
BeoLab 20 – was £8490 – NOW £6490
BeoLab 17 – was £3110 – NOW £2295
BeoLab 3 – was £2835 – NOW £2385
Beoplay A9 – was £1849 – NOW £1479
Beoplay A9 Airplay – was £1699 – NOW £995
BeoVision 14-40" with easel stand in Brass – was £6034 – NOW £4995
Beoplay S3 – was £229 – NOW £189
Beoplay H7 – was £329 – NOW £289
Beoplay H8 – was £399 – NOW £359
Beoplay H6 – was £239 – NOW - £149
BeoLit 12 – was £399 – NOW £199
Beoplay H2 – was £169 – NOW £99
Beoplay Form 2i – was £109 – NOW £59
Limited stock subject to availability on a first come first served basis.
BeoPlay M3 now available in store
BeoSound Shape - Off The Wall Music
BeoSound Shape is a wall-mounted wireless speaker system for design conscious music lovers – delivering immersive sound staging, a customizable design and integrated noise dampers for improved room acoustics.
BeoVision Eclipse - 55" & 65"
BeoVision Eclipse is the definitive TV featuring the latest 4K HDR OLED screen technology and the world's best TV sound in store now.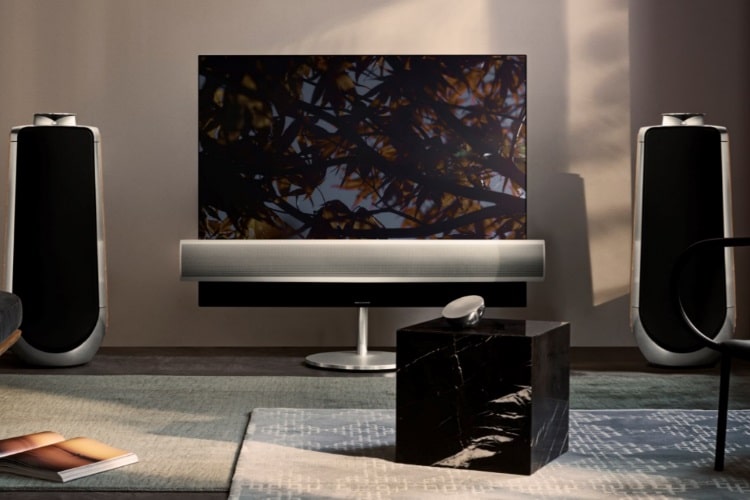 BeoLab 50
The new BeoLab 50 delivers truly exceptional performance with innovative sound controls and a uniquely unfolding design.
As your local Bang & Olufsen showroom and the first new Concept store in the UK established in 2014, covering all your Bang & Olufsen and Smart Home needs. We specialize in providing a welcoming, helpful and relaxed experience, no matter whether you want to automate your whole home, if you're looking to extend your Bang & Olufsen system or want to browse our fine assortment of loudspeakers, TVs, sound systems and more.
Since opening in October 2014 we have been delighted to welcome many existing clients back to see us, both to discuss their existing products and help with new product integration. We have also been pleased to see many new customers visit us and enjoy the new showroom and products we have available.
We invite you to visit us in-store to view our stunning showroom designed to demonstrate how technology can be integrated throughout your home. We have a luxurious Kitchen and Bathroom both showcasing TV's and speakers, a fabulous Office integrating the new BeoSound Essence and wireless speakers and to complete the whole customer experience our new Home Cinema showcasing the latest flagship TV from Bang & Olufsen the BeoVision Avant 85" Ultra HD with 7.1 surround sound. We have also installed HD CCTV, Lutron lighting and electric blinds to provide you with the whole 'Smart Home' experience. Feel free to visit us anytime during our opening hours or book a private in-store presentation of your favourite product. We look forward to seeing you soon.
Regards,
Graham, Martin, James and Duncan.
Latest News
BeoLab 5 - Now £9995.00
BeoLink Multiroom
Seamless listening throughout your home
 BeoLink Multiroom unites your Bang & Olufsen products into one
liberating wireless system. Play different music in different rooms or let
one tune flow throughout your home. Just touch your Bang & Olufsen
product to instantly join the music stream, or control the experience
from your BeoRemote One or mobile.
One control for every room

Get a quick and simple overview of the music in every room and
control it from wherever you are with the BeoMusic App.
Interest Free Finance Offer
Enjoy the Bang & Olufsen Experience today.
For a limited time we are offering 0% interest free finance.
* Finance is subject to status, terms and conditions apply (please see instore).