Bang & Olufsen Boston Newbury Street
Contact Info
Boston
,
Massachusetts
02116
US
+1 617-294-6922
Opening hours
11:00 AM
-
6:00 PM
11:00 AM
-
6:00 PM
11:00 AM
-
6:00 PM
11:00 AM
-
6:00 PM
11:00 AM
-
6:00 PM
11:00 AM
-
6:00 PM
12:00 PM
-
5:00 PM
Store Hours:
Day of the Week
Hours
Mon

11:00 AM

-

6:00 PM

Tue

11:00 AM

-

6:00 PM

Wed

11:00 AM

-

6:00 PM

Thu

11:00 AM

-

6:00 PM

Fri

11:00 AM

-

6:00 PM

Sat

11:00 AM

-

6:00 PM

Sun

12:00 PM

-

5:00 PM
Day of the Week
Hours
Mon

11:00 AM

-

6:00 PM

Tue

11:00 AM

-

6:00 PM

Wed

11:00 AM

-

6:00 PM

Thu

11:00 AM

-

6:00 PM

Fri

11:00 AM

-

6:00 PM

Sat

11:00 AM

-

6:00 PM

Sun

12:00 PM

-

5:00 PM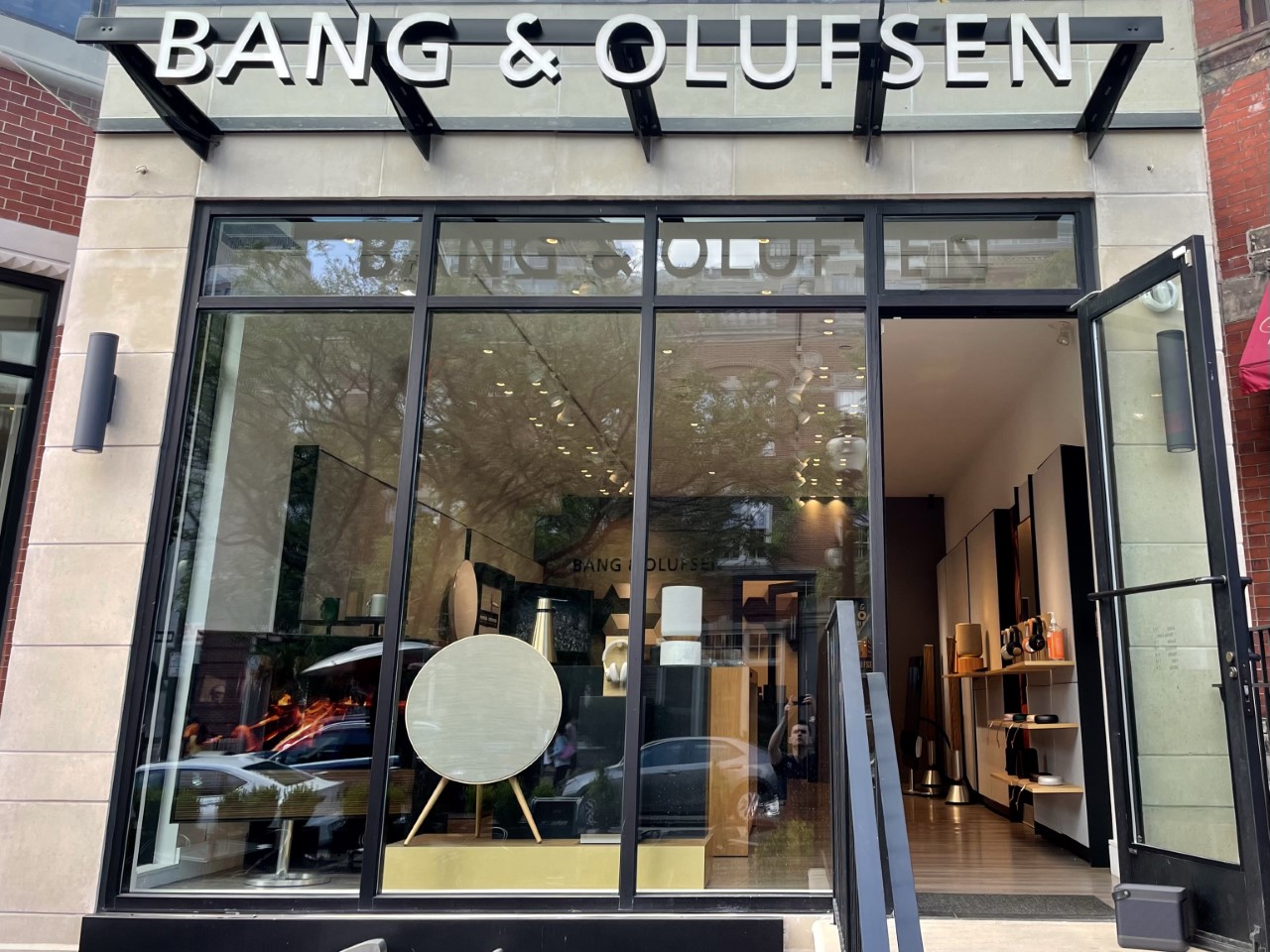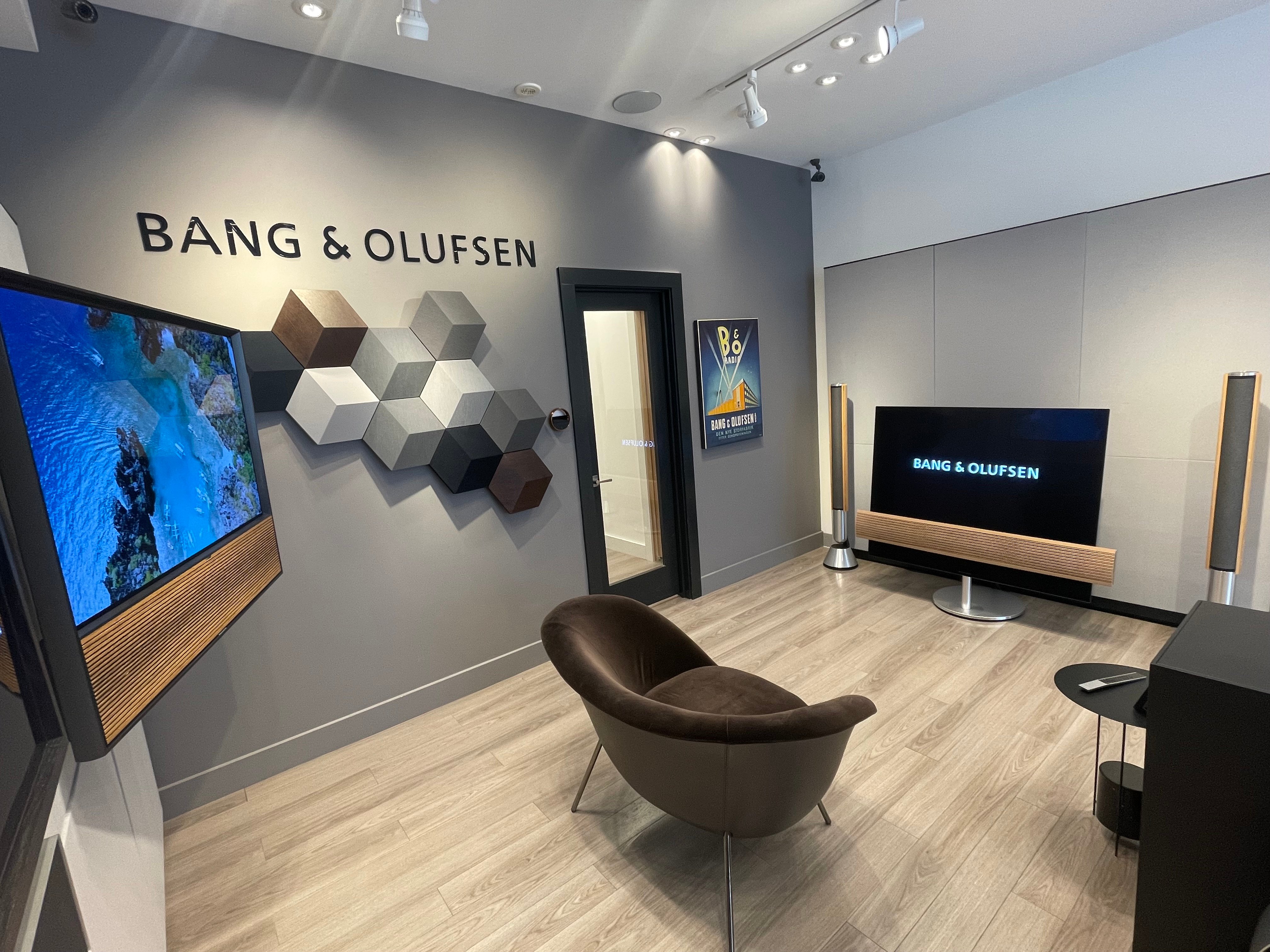 About us
In Bang & Olufsen Boston Newbury Street we offer the full assortment of Bang & Olufsen televisions, speakers and headphones, including seasonal collections and limited editions.
Sign up for our global and local newsletter
to receive product news and special invites.
As your local Bang & Olufsen retailer, we specialize in providing a welcoming, helpful and relaxed experience, whether you want pointers on how to enhance your experience, are looking to buy a Bang & Olufsen product, or want to browse our fine assortment of loudspeakers, TVs, sound systems and more.
Featured
The latest news and highlights in our store
Beolab 28 - Stereo excellence. In tune with you.

Make every movie an unmissable cinematic event

Beosound Balance Stereo Pair
Experience In-Store
Your new TV or speakers need to fit perfectly in your home. We can help you make the right choice.
Services we offer
Bang & Olufsen Showroom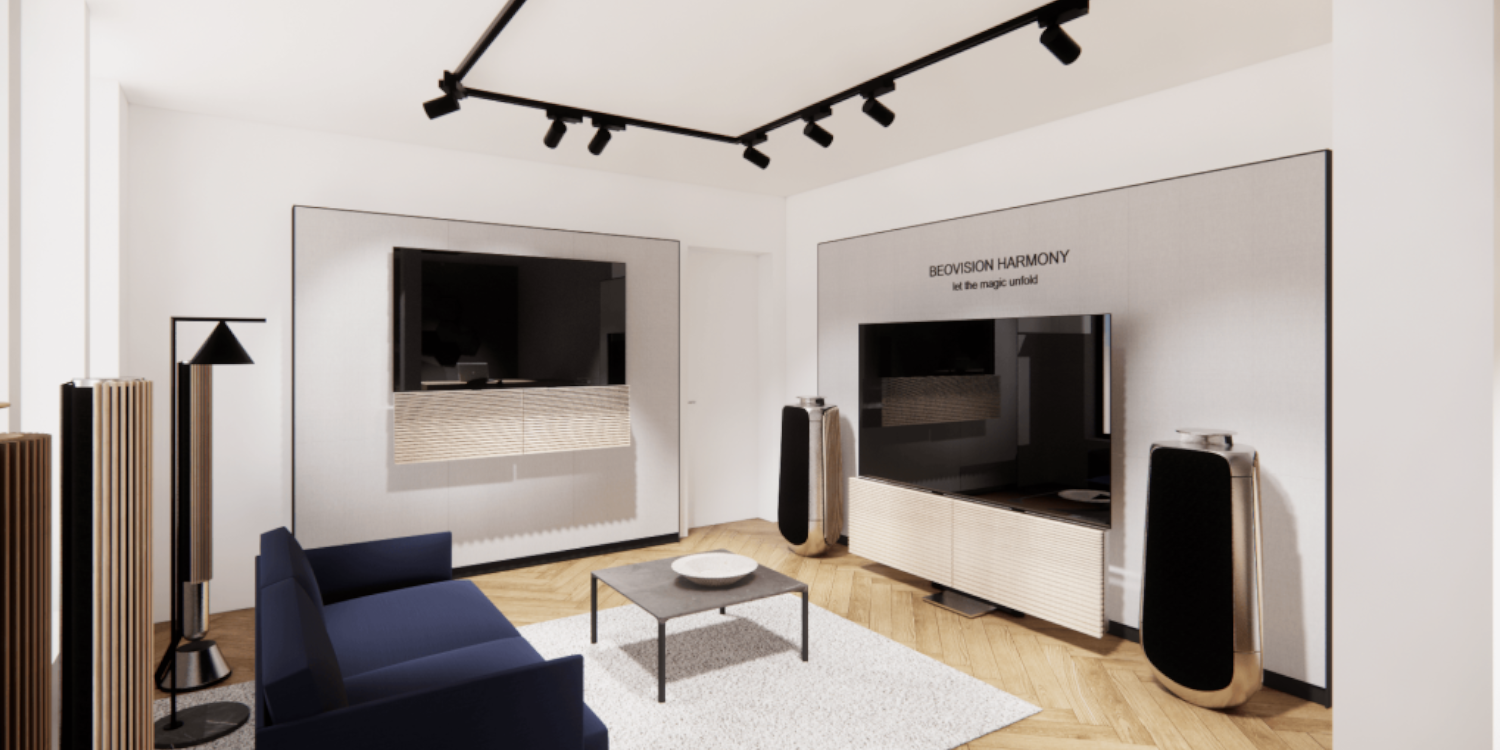 Visit Bang & Olufsen Boston Newbury Street to experience Bang & Olufsen products - including televisions, stereo speakers, multiroom speakers, portable speakers, headphones and earphones - in our showroom. Listen to the sound, feel the craftmanship, and see the design first-hand. We can offer you the chance to explore all core Bang & Olufsen products as well as limited edition colour variants and special editions from collaborations with other brands.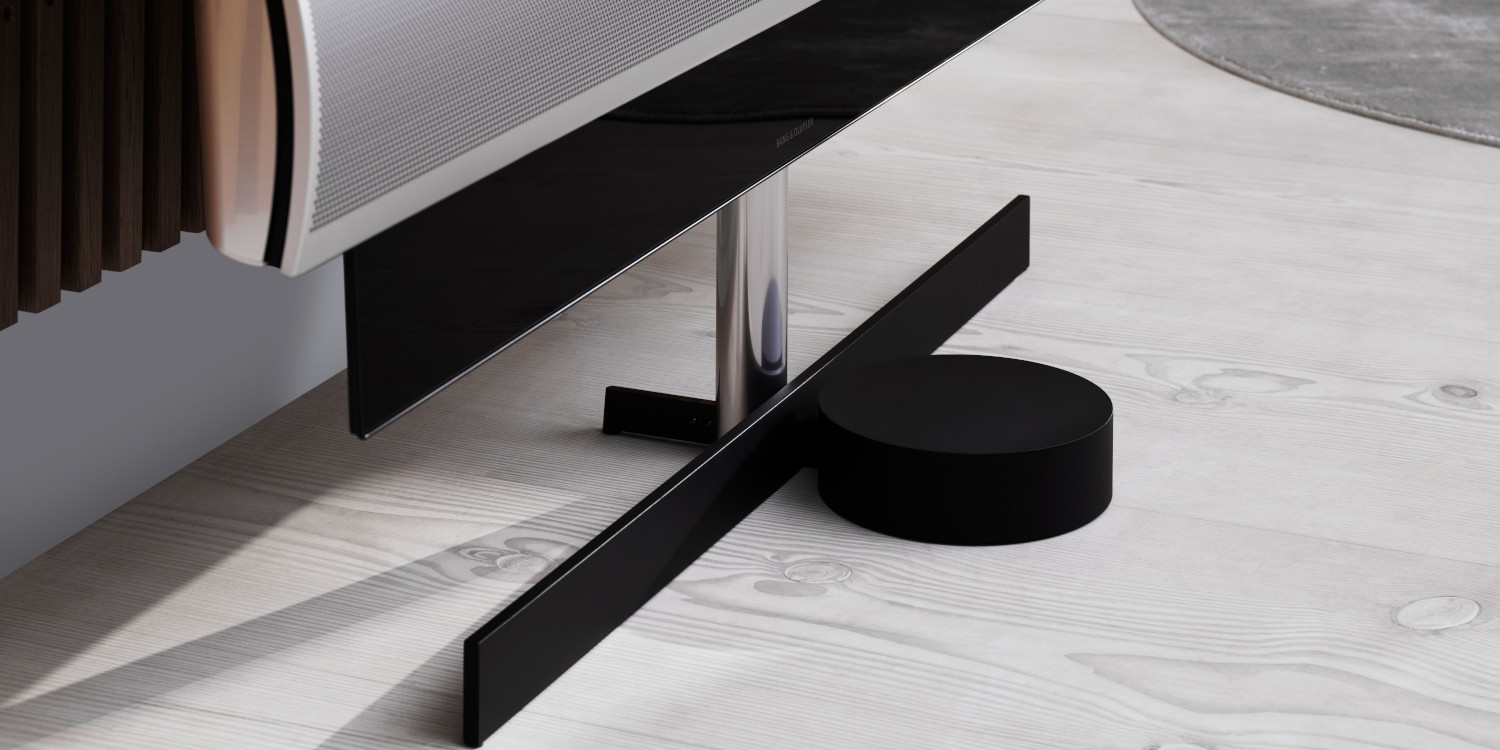 Our experienced personnel are able to help you achieve the perfect marriage of placement, tonality and décor in very little time. The placement of your new speakers in your living room will have quite a large effect on its performance. Share your home specifications with us and we will guide you to the perfect custom setup. Our certified installers are able to hide all cables and use only the finest materials, creating a setup that works seamlessly and is flawlessly integrated in your home.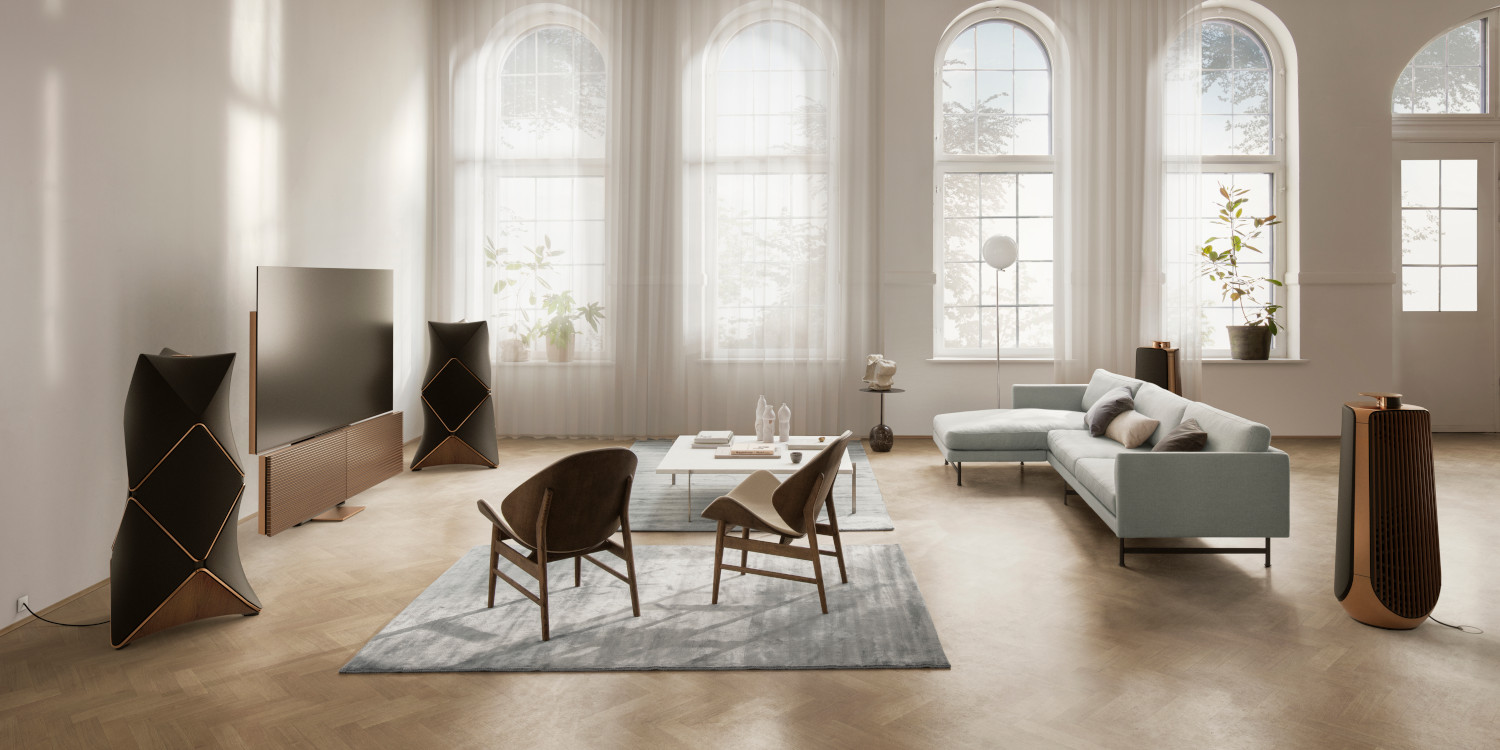 Our experts are standing by to install the perfect, custom tailored Bang & Olufsen experience in your home. We will help you with everything from initial consultancy to final implementation. Seamless convenience with one touch of your Bang & Olufsen remote is our goal. When you buy a Bang & Olufsen product in our store, our competent in-store personnel will do their utmost to provide you with the best service possible. We review the work and knowledge of our service engineers and installers regularly to ensure that the quality of the work they perform is of the highest standard. All are certified by Bang & Olufsen.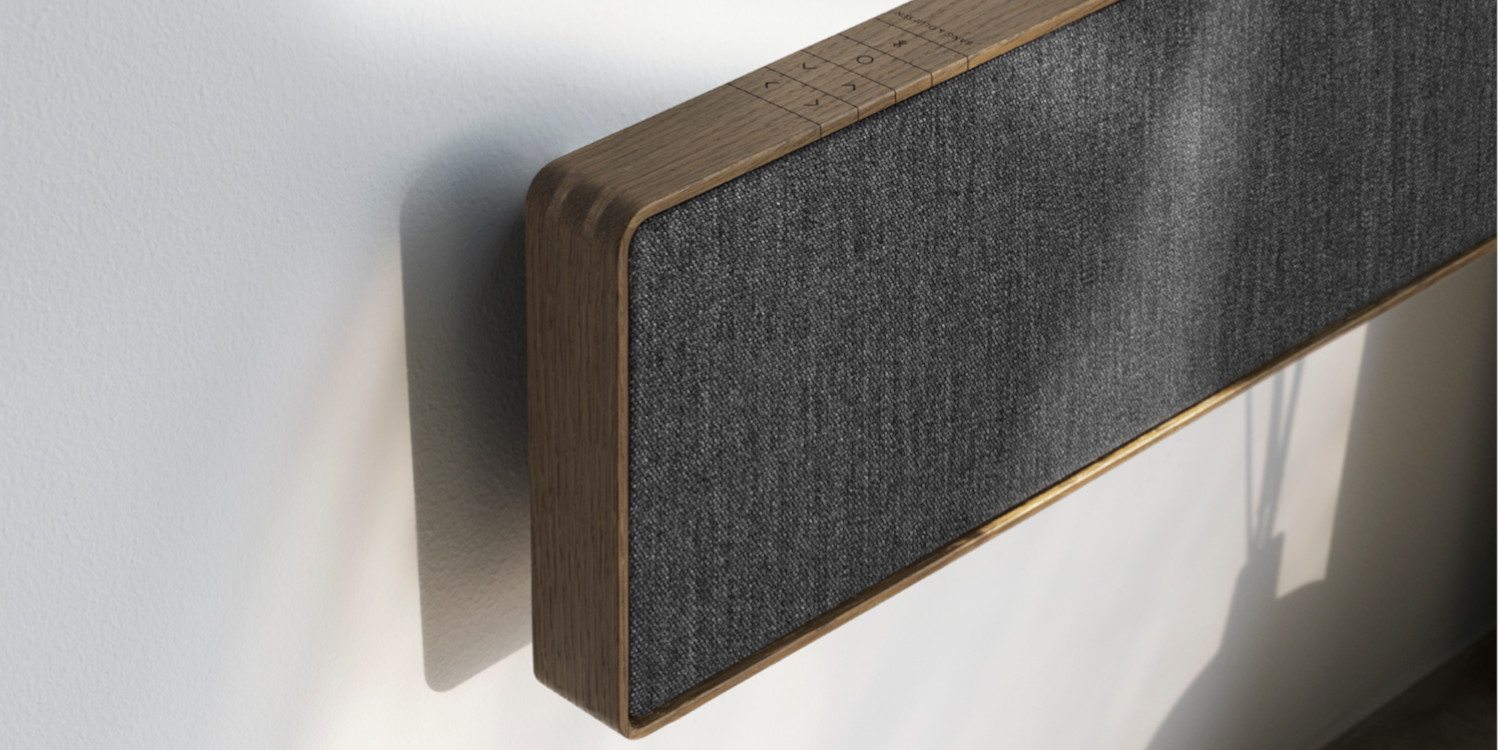 Buying a Bang & Olufsen product is a solid and durable investment. But naturally, all new store-bought Bang & Olufsen products come with a two year minimum warranty, and all store-bought refurbished products have a custom warranty, tailored to the product. Don't hesitate to contact us if you have a question regarding the warranty on your product, new or refurbished.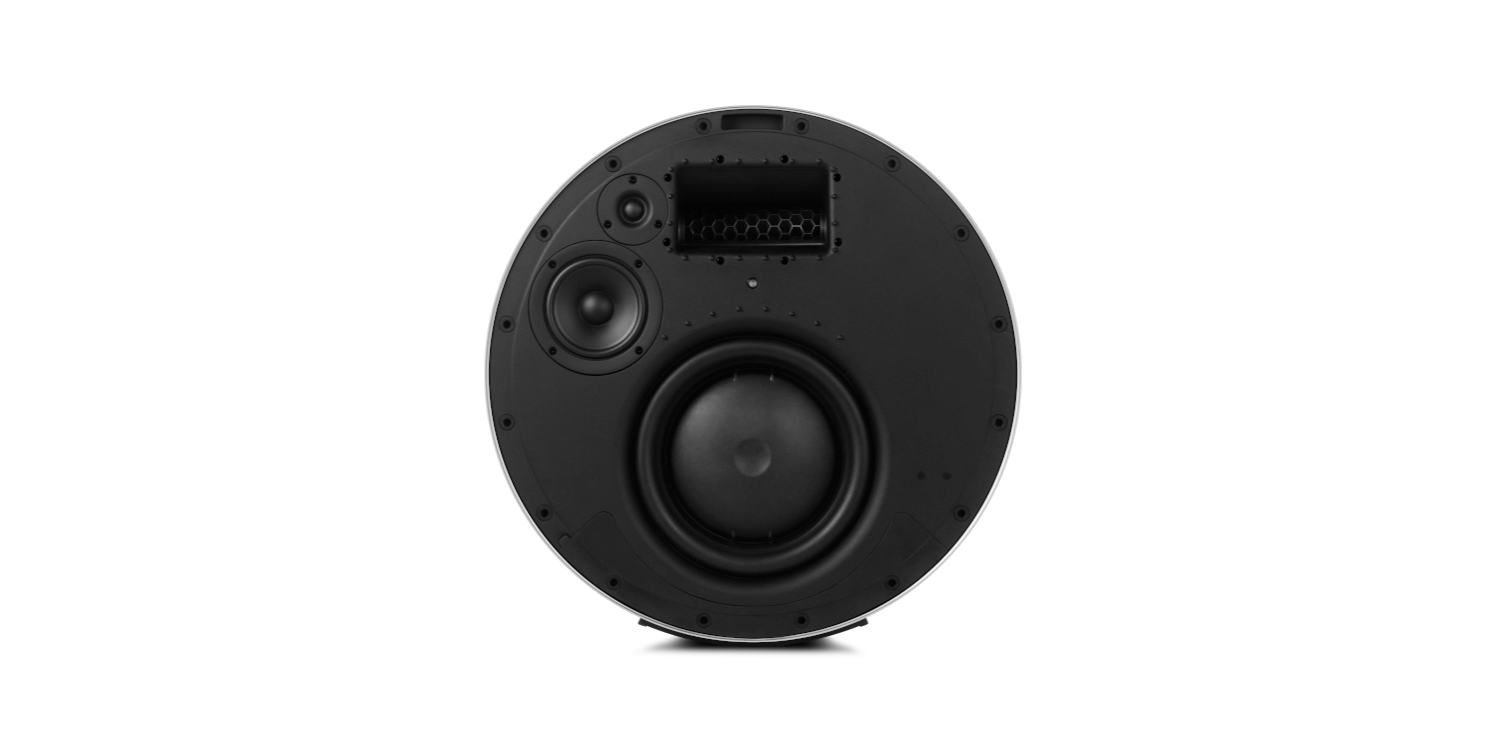 If you experience problems with your product, simply contact us, and we'll arrange a swift and thorough repair. You can find contact information at the top of the page. Tell us the nature of your problem or let us know of any questions regarding repair, and we'll conduct the necessary arrangements.
Approved Used
Find these classic, pre-loved Bang & Olufsen products in our store.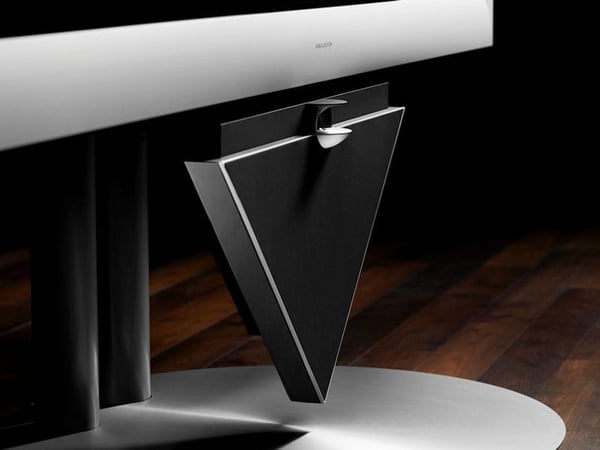 BeoLab 10
BeoLab 10 is a powerful center speaker which perfectly matches the slim design and awesome picture quality of BeoVision 4. The big internal speaker volume and digital ICEpower amplifiers offer performance that can measure up to any surround sound set-up, even complementing the mighty BeoLab 5 without running out of steam. And though BeoLab 10 has a slender, wall-hugging profile, it has still been possible to fit the case with Acoustic Lens Technology, delivering detailed sound to everyone in the audience.
$1,200.00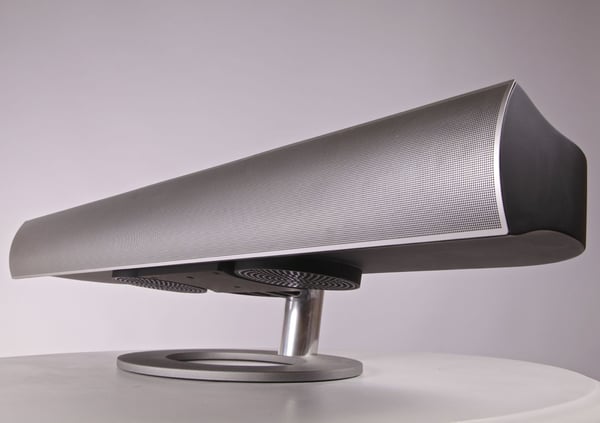 BeoLab 7-1
Packed with advanced technology, BeoLab 7 is, quite simply, the most powerful stereo speaker ever developed for TV. With six individual driver units, all powered by their own digital ICEpower amplifier, BeoLab 7 delivers an unequalled sound performance for your TV viewing. The beam-shaped loudspeaker below the screen provides superb acoustic performance and signifies the presence of sound as an integral part of your viewing experience. Musically, the speaker rivals many hi-fi systems, and is quite capable of being used as a BeoLink speaker.
$800.00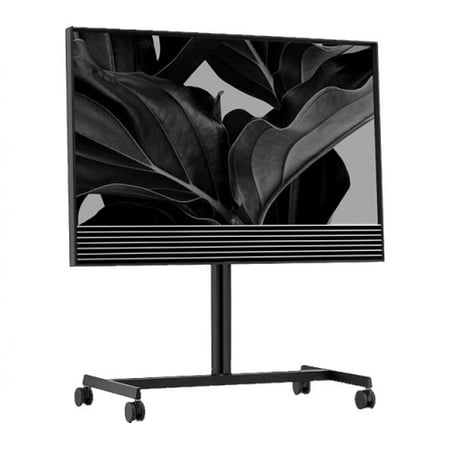 BeoVision Horizon 48" - Wheel Floor Stand
Beovision Horizon is designed for the many different ways you enjoy TV, music, movies or games in your everyday life. The result is an ultra-flexible solution fits right in, no matter where you place it or move it to. Unadorned yet extremely elegant in its appearance.
$5,995.00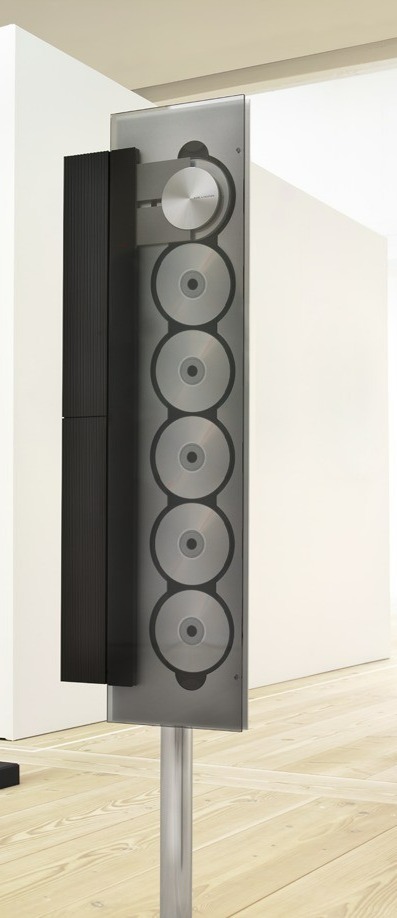 BeoSound 9000
Music may not be essential to life, but it's hard to live without it. That's why BeoSound 9000 makes such a big thing about bringing your music out into the open and letting you create your own personal jukebox with the music that means the most to you. Combine BeoSound 9000 with the latest Beolink® PC 2 software application and you can access the digital music files on your computer's hard disc. Place it upright in a bookcase, lay it flat on a shelf, or hang it directly on the wall - either vertically or horizontally. It can stand between a pair of BeoLab 1 or BeoLab 8000 loudspeakers, or with any other speaker in the BeoLab range. With BeoSound 9000, the possibilities - and the enjoyment - are endless " (B&O Catalogue 2001 - 2002)
$2,250.00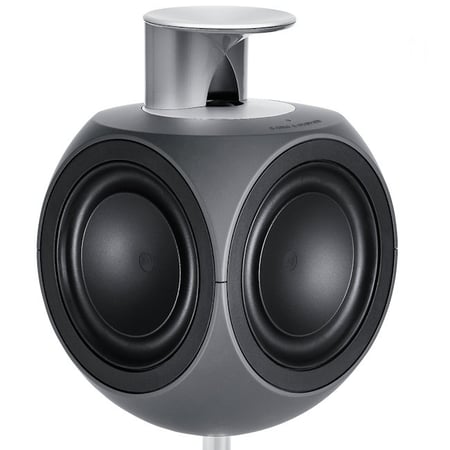 BeoLab 3 - Bang & Olufsen Active Loudspeaker
BeoLab 3 is the most compact, versatile loudspeaker in the current Bang & Olufsen range of loudspeakers. Using both ICEPower® and Acoustic Lens Technology, BeoLab 3 represents an important expansion of Bang & Olufsen's compact loudspeaker range.
$2,200.00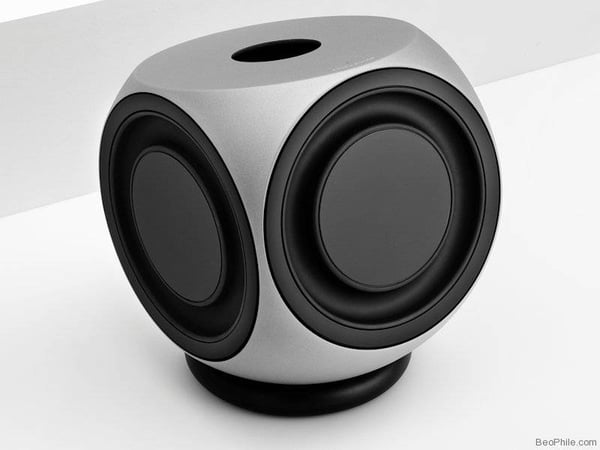 BeoLab 2 Active Subwoofer
Put yourself at the eye of the storm and enjoy a new sound experience. Just when you thought it couldn't get any better - it does. The BeoLab 2 subwoofer has only one purpose: to exploit the new world of sound that Digital technology has opened up. Sit back, hold on tight - and experience a deep bass sensation you only thought possible at the cinema or concert hall. BeoLab 2 is the latest (2001) member of the loudspeaker family and has been specially designed to handle the low end of the sound spectrum. It completes your surround set-up and allows you to experience details in movies and music that you've never heard before. It just about as good as bass gets!
$1,650.00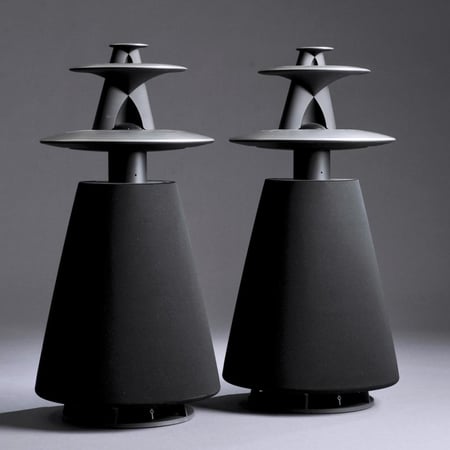 BeoLab 5 Active Loudspeakers (Set)
If your ultimate passion is to get as close to the music of your favourite artists as possible, the BeoLab 5 will take you there. Conceived, designed and built by Bang & Olufsen, BeoLab 5 is (their) latest loudspeaker concept developed for everyone with a passion for listening and living with the ultimate in audio and video entertainment.
$16,500.00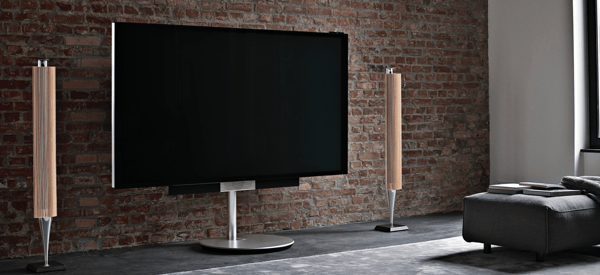 BeoVision Avant 75" 4K LCD / Motorized Floor Stand
BeoVison Avant is a celebration of movement. An unforgettable fusion of Ultra High-Definition (4K) picture and iconic Bang & Olufsen sound, that unfolds before your very eyes.
$8,000.00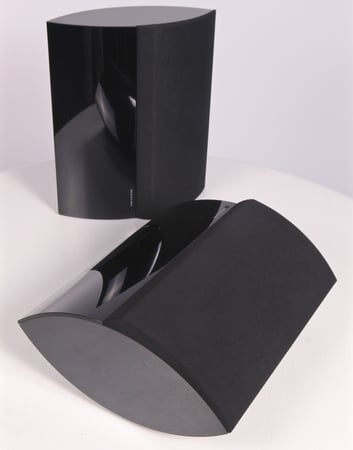 BeoLab 4000 Active Loudspeakers (set)
" When it comes to sound reproduction we believe there's only one relevant parameter: How close can we come to the originally recorded sound. We feel an obligation not to disturb the intentions of the artist by adding unnatural elements to the acoustic image. Therefore all Bang & Olufsen loudspeakers share the same goal. They differ in size and shape and in terms of sound pressure level. But they are all developed to reproduce the natural, unaltered sound as closely as possible " - Bang & Olufsen catalogue 2001 - 2002
$700.00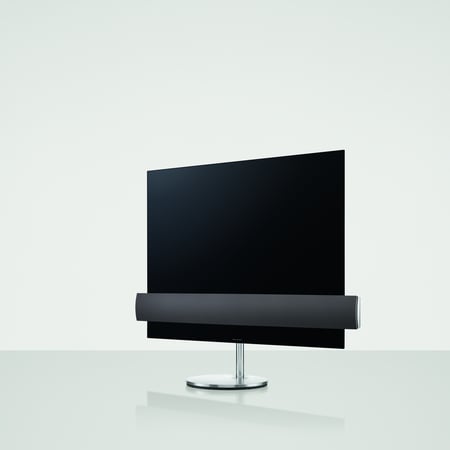 BeoVision Eclipse 65 1st Gen / Motorized Floor Stand
Our goal with Beovision Eclipse was crystal clear: merge images so lifelike they almost seem unreal with sounds so powerful they literally break out of the picture. No easy task, but the result is quite simple: we designed the definitive TV.
$5,500.00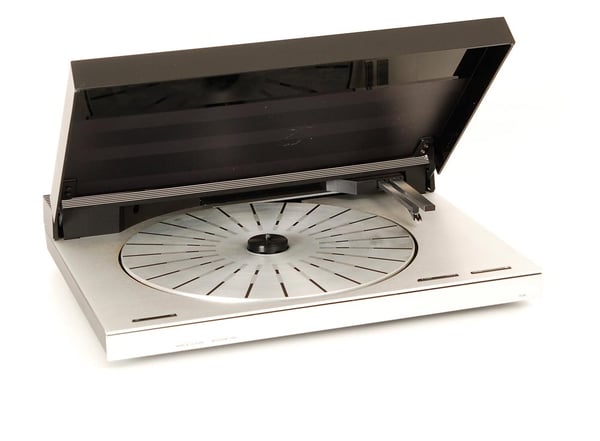 BeoGram 5500 (New MMC Cartridge)
At first sight Beosystem 5500 looked almost too refined to be a musical powerhouse. The clean, streamlined design, devoid of buttons and dials, gave no indication of the massive potential beneath. Looks are deceptive, however. Below those polished surfaces was a technologically-advanced record player, tape recorder, radio and compact disc player, plus an amplifier that could more than hold its own among the heavyweights.
$1,800.00
Explore More Products and Services